Many businesses are considering how they can enable their teams to work remotely or from home. At Acuity Unified Communications we have the solutions.
We are here to help you take your remote working to the next level by allowing your business to communicate and collaborate from anywhere, anytime – keeping your team connected and aiding business continuity.
Acuity's Unified Communications solutions enable:-
Seamless integration between desk phone and mobile, allowing team members to make and receive calls from either device, whether they are at home, in the office or out in the road. We can make a mobile act like an extension of your phone system.
Advanced call handling features such as hunt groups, voicemail, hold, transfer, hold music and even call recording on a mobile.
Having an office extension also on a phone at home, allowing team members to work at home but still receive and make calls and have all the features they have on their office desk phone, so they can work as if they were in the office.
Compliant call recording
Conference calling
Remote IT support
Multi-network 4G SIM cards ensuring you stay connected to your employees. Acuity can provide all the tools your business needs to remain effective whilst your teams are either working from home or roaming around the country.
Broadband connectivity
Acuity offers a spectrum of connectivity solutions to ensure that your team members stay connected when they are working remotely or from home including business-grade broadband and a multi-network mobile SIM service. For businesses with remote workers that require more than just 4G mobile or broadband internet, Acuity also provides Dedicated Internet Access circuits, MPLS/IPVPN network solutions and is a leading provider of Hosted Telephony.
Call centres
If you are a call centre customer with the Acuity call centre solution, we can enable your call centre agents to work from home and still work as if they are in the office sitting at their desk. Whilst working from home they can still make and receive calls via the call queues. All call centre reporting will also continue to function as if the agents are in the office.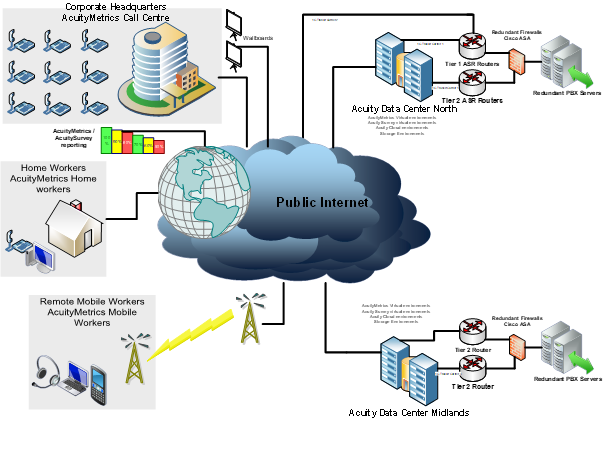 We're here to help!
If you'd like to find out more or discuss in more detail how we can help you with your remote working, disaster recovery or business continuity, please call us on 0800 130 3020 or email bcp@acuityuc.com and one of our team will be happy to help.
Tel 0800 130 3020
bcp@acuityuc.com
Check out our brands – acuityuc.com, linebroker.co.uk
Other products include SIP Trunks | Hosted PBX | Mobile | Internet Connectivity | Global wi-fi roaming | Networking | SSL VPN | IPSec VPN | Firewalling | Data encryption | Multi-factor Authentication | Email security, spam, spyware, trojan and virus protection | Call & contact centres | Hosted Applications | Virtual Servers & Cloud Storage