Cisco

Xcomm partners with Cisco, deploying Cisco switches and Cisco handsets.
Cisco Switches
Cisco delivers a comprehensive portfolio of switching solutions for Enterprise Networks, data centres, and smaller businesses. These solutions are optimised for a wide range of industries, including service providers, financial services, and the public sector.
Regardless of location, application, or information stream, Xcomm's solutions incorporating Cisco switches deliver a consistent high-quality network experience to connected users. This increases end user productivity, satisfaction ratings, and business system interaction and returns.
Xcomm's solutions incorporating Cisco switches deliver maximum uptime, high throughput, rapid deployment, enhanced access, and automated operations
Cisco IP handsets
Cisco IP phones are the most popular and highest quality business phones on the market because Cisco stays on the cutting edge of technology, while also keeping the user experience in mind.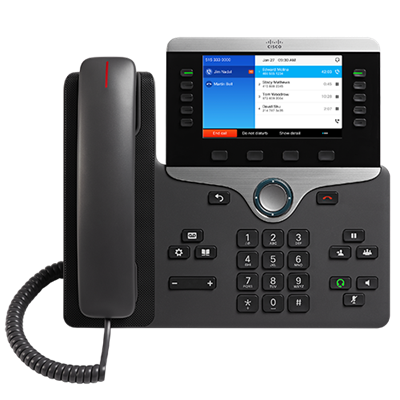 A VoIP phone system connected to business VoIP phones allow users to be completely mobile, accessible from any device that has internet access. VoIP phones allow for free-flowing communication across multiple channels and devices. They're built for keeping valuable data secure, conveniently stored and readily available.
Another advantage of a VoIP phone system and Cisco handsets is the seemingly endless list of available features. This includes IVR, auto attendants, call recording, video chat and conferencing to name but a few.
Cisco makes some of the top IP phones, designed to make all of these features easy and intuitive for users.
Xcomm typically deploys Cisco 78XX range of handsets for desk users, Cisco 88XX for receptionists along with Cisco's BLF expansion module allowing the user to see whether any employee is on the phone or not.